We scoured the globe for the most unique and interesting tea cups.
After compiling the most interesting, we wanted to share these unique pieces of art with you; our readers.
Tea means different things to different people, but one thing is certain, tea is a way of life and it is beautiful!
Which is these unique tea cups is your favorite? Some are a little more practical and useful than others, but no collection is complete with a little bit of variety – it is the spice of life, after all.
As you browse this delightful collection of unique tea cups, make sure you take some time to visit the homepages of the people who created them to support artists, artisans, and creativity.
16. Paper Tea Cups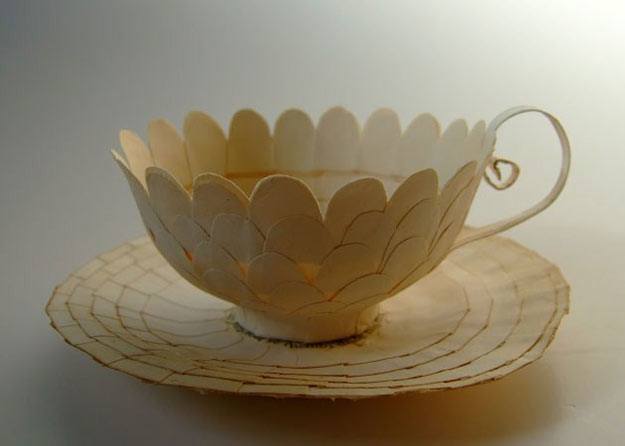 The first I had when I saw this tea cup was that there was no way you could drink out of a teacup made from paper.
I was right, this teacup doesn't hold up well with liquids, but it certainly makes a great addition to your tea room.
The intricacy and beauty of these hand made cups is breathtaking.
With some of Cecilia's pieces she uses paper straight out of a book, giving the teacup a whole new dimension with words spiraling around. Truly a captivating piece of art that you can enjoy for a lifetime.
– Via CeciliaLevy.com
15. Peacock Tea Cup
A far cry from a teacup made from paper, this piece of art doubles as a usable teacup!
This fine china is reminiscent of something you would find in your grandmother's tea cabinet, only brought to another level. The colors are vibrant and the artistry is prevalent, certainly a conversation piece for tea time with guests.
– Via DUSIEC on Amazon
14. Beautiful Bathing Girl Tea Cup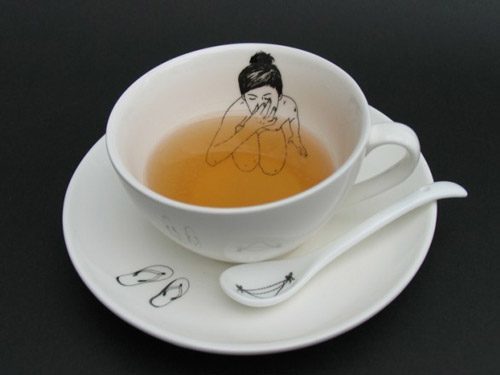 These quirky cups catch you off guard.
Seemingly plain, like any other teacup in your cabinet, once you take a second look though you begin to appreciate the fun design of these cups.
As if tea itself doesn't do a good enough job relieving your worries and stresses, looking down into your teacup and seeing a girl dunking her head will definitely make you smile with every sip.
– Via DutchByDesign.com
13. The Floating Mug
This simple piece of design quite literally takes this mug to a new level.
The illusion of a floating cup is a novelty that earns itself a spot in your tea cup collection, but the built in coaster is what takes this mug over the top.
Whether they designed it to be an optical illusion or to be a functional piece of drinking equipment, who knows.
The simple fact is it performs both jobs perfectly! It is not flashy, it is quite plain really, but it is just unique enough to get the office talking about it around the coffee station.
– Via FloatingMug.com
12. Cute Fishing Couple Tea Cup
Looking for a cute cup to get your sweet heart? Nothing will melt her heart like a warm cup of tea in this adorable teacup.
Art can go beyond being great to look at or admire though, it can be functional. This teacup is a great example of how innovative people can be when designing mugs. If this teacup didn't have a fishing pole for you to wrap your tea bag string around it would still be adorable, but would lack that jenesaisquoi.
– Via Womany.net
11. Cookie Monster Mug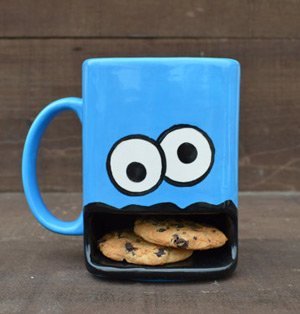 The perfect mug for those who are young at heart. This whacky design is sure to get a smile every time you take it out.
What's more?
You have a little area underneath the main mug to store your cookies or biscuits, keeping them warm and gooey as you enjoy your coffee or tea.
So if you are looking for a mug that makes you smile and has room for snacks, this is your best bet. Me Want Tea!
– Via Etsy
10. The Buddha Bowl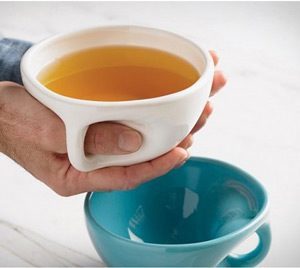 Cup of tea just not enough for you? Instead of carrying around two cups, try filling up this Buddha tea bowl.
It has a lovely thumb rest for added stability and comfort, making it a much better choice than your average cereal bowl.
There is a certain kind of genius to this design. The act of drinking tea with both hands really amplifies tea's meditative qualities.
You will be focused on your tea, mindful of every sip, a really great experience for those who love their tea.
– Via BlessThisStuff.com
9. Spooky Teeth Mug
Everyone has a dark side, let your teacup reflect this with this eery design.
Generally when people think of tea they don't think or skeletons, zombies or anything that "dark". But people are as different as tea itself, so why not have a teacup for those with an unnatural love of teeth.
This mug would make a great gift for the dentist in your life, a Gothic aficionado or to be used as a water cup for brushing your teeth. Did we mention that the liquid will run between the spaces in the teeth?
– Via YankoDesign.com
8. Mustache Mugs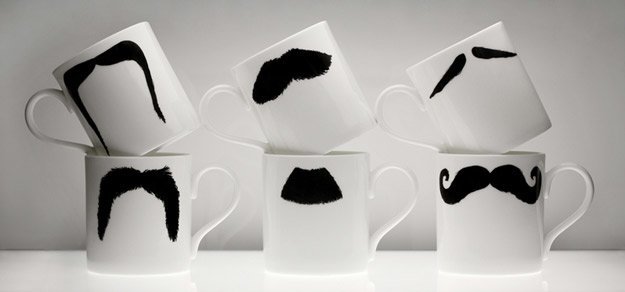 Want your teacup to reflect your inner mustache?
Well mustache lovers rejoice, your mugs are here! You can buy the mug that matches your mustache or that gives you the mustache you have always dreamed of.
Mustaches are not only fashionable in November, rock your Mo all year with this funky mug.
One thing you can be sure of, is everyone watching you take a sip of your beverage will have a smirk. So bring a little bit of joy to those around you with your very own Moustache Mug.
– Via PeterIbruegger.com
7. These Tea Cups Were Meant for Walking
This is a twist on your classic tea set. Like something out of a dark iteration of Alice in Wonderland, this tea set has a mind of its own.
If you appreciate the classic look of an English tea set but want to add a dreamlike quality to teatime, this set is for you. A unique set that your average tea enthusiast probably doesn't have.
– Via RonitBaranga.com
6. Pig Snout Cups
If you are an animal lover, you won't be able to help yourself with these adorable tea cups. Sport the snout of your favorite animal and enjoy a hot cup of tea at the same time.
Their classic design will blend right into your typical tea sets, but look a little closer and you will fall in love.
A great gift for the animal lover in your life.
– Via JorineOosterhoff.com
5. Picto Caffe 8-Bit Cup for Gamers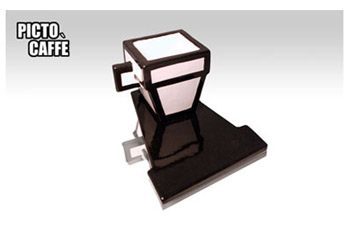 Who doesn't enjoy the nostalgia of 2D, 8bit objects? Launch yourself into your favorite video games of 20 years ago with each and every sip.
A great gift for a tea geek.
You might not want to even drink out of this Picto Caffe mug it looks so neat. Making it a fantastic piece of art that reflects your appreciation of hot beverages and 2d objects.
– Via Rlos-Design.com
4. Tea Mug With a Built In Garden
For the Eco-Minded tea folks out there. I don't think I have ever looked at my tea mug and thought "this needs more greenery."
But after seeing this Grow Up Mug I find myself NEEDING grass growing from the bottom of my mug.
Store it upside down near a window, give it a trim now and again with a drink of water and you have yourself a functional piece of lawn in your kitchen.
A built in coaster that offers a soft place to set your cup down no matter what.
Just be sure not to neglect this mug, you might end up with a dead spot on your mini-mug-lawn.
– Via YankoDesign.com
3. Tea Bag Coffin To Hide The Teabag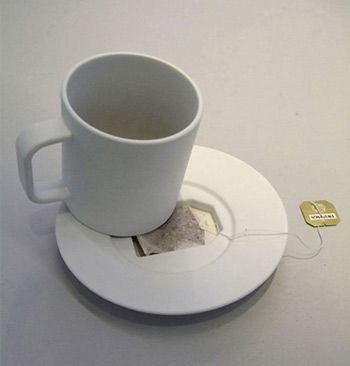 Storing a used teabag on your saucer is definitely not the most attractive thing during tea time. This unique design offers you a solution, the tea bag coffin.
A tea bag shaped impression in the saucer that keeps the used bag out of sight.
Never wonder where to put your tea bag again, no more mess, no more fuss.
– Via YankoDesign.com
2. Zipper Tea Cup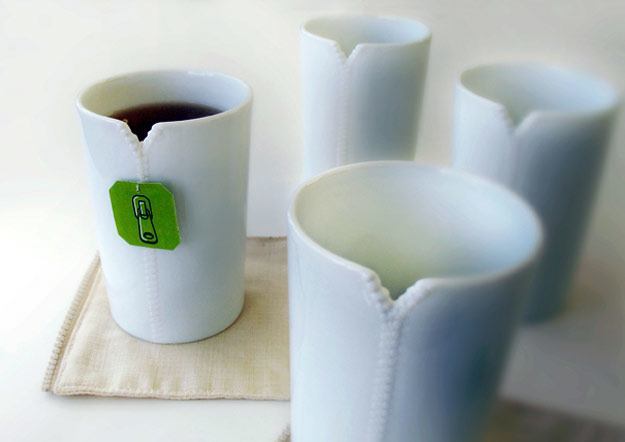 This neat little design goes beyond aesthetics, it is great for holding onto your tea bag string to ensure it doesn't go for a dip.
The clever zipper design is fun to look at and offers a bit of textual stimulation while you drink your favorite cup of tea.
Because no one enjoys fishing out a tea bag with their bare hands.
– Via YankoDesign.com
1. Nikon Zoom Lens Tea and Coffee Mug
These unique tea mugs are a must have for any photographer. The level of detail is unmatched, in fact you can even zoom in and out.
You will have to be weary of which lens you put in your camera bag though, these mugs are that tricky.
If you are a photographer or camera enthusiast you know just how expensive these lenses can be, thankfully these mugs are affordable on almost any budget.
Making them a fantastic gift idea or novelty mug for your studio.
– Via Photojojo.com