Before discovering tea advent calendars, December 1st used to mean I was in for 24 days of waxy, cheap tasting chocolates that would rarely last longer than the first week or two. Now as an adult, I've found a much tastier (and healthier) way to count down during the holidays.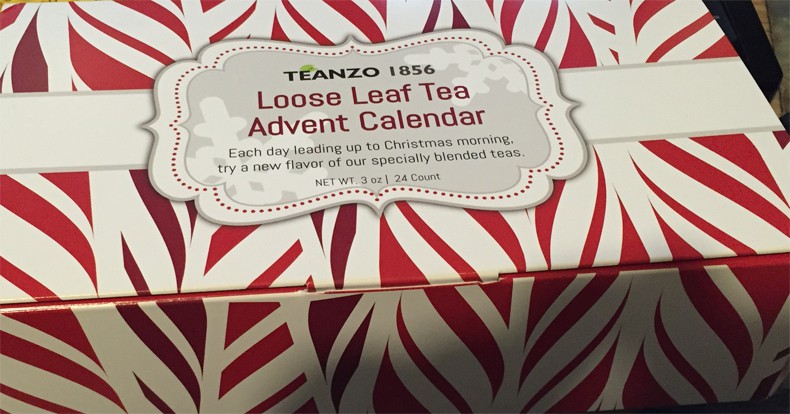 Did you know? The advent calendar was first used by Germans in the 19th century.
Adult advent calendars are a big trend lately, often being filled with booze or food. My favorite, by a country mile, is the tea advent calendar. Don't get me wrong, there's nothing wrong with some booze or treat foods, but those aren't necessarily things that I want to enjoy on a daily basis for nearly a month. Tea, on the otherhand? Bring it on! 
The folks over at Teanzo 1856 sent us their Loose Leaf Tea Advent Calendar (which you can find here), and not unlike those waxy chocolate advent calendars of yesteryear – I still find myself skipping ahead a few days, because these blends are so tasty.
This loose leaf tea advent calendar comes with 24 unique blends that give you the opportunity to experience many of the different teas that the company has to offer. For each day, there is a small pouch of tea with a number that corresponds to the legend on the back of the box.
December has already started, but it's not too late to pick up your advent calendar from Teanzo, click here to visit their website.
Here's a look at the exact teas you'll receive:
Winter Earl Grey (Whole leaf black tea, cornflowers, vanilla, and natural flavor.)
Jasmine (Green tea and jasmine scent.)
Apple Cinnamon (Organic black tea, cinnamon chips and apple pieces, and natural flavor.)
Irish Breakfast (Blend of black teas from India and Sri Lanka.)
Peppermint Rose (Peppermint, rosehips, and rose petals.)
Acai Berry Green (Sencha green tea, safflowers, and natural flavor.)
Dream Spa Blend (Cardamom, saffron, licorice root, fennel, ginger root, cinnamon, rosebuds, lemongrass, and rose scene.)
Black Cherry Tea (Black tea, safflowers, and natural flavors.)
Ti Kwan Yin (Oolong tea.)
Chocolate Mint Tea (Organic black tea, mint leaves, and chocolate pieces with chocolate flavor.)
Bergamot Earl Grey (Organic black tea and natural flavor.)
Detox Mint (Tulsi, spearmint, rosehips, lemon myrtle, and natural flavors.)
Cranberry Tea (Organic black tea with cranberry pieces, natural flavor, and safflower.)
Breakfast Tea (Golden tips whole leaf black tea from Assam.)
Tranquil Spa Blend (Green rooibos, ginger root, orange peel, mint leaves, eucalyptus, and natural flavor.)
Tropical Iced Tea (Organic black tea with safflowers, marigold, cornflower, and blue mallow flowers and natural flavors.)
Moroccan Mint (Gunpowder green tea and peppermint.)
Vanilla Rooibos (Organic red tea from Africa and natural vanilla.)
Darjeeling (Black tea from Darjeeling.)
Orange Creme Dessert Tea (Black tea, orange peel, vanilla pieces, and natural flavors.)
Fennel Chai (Black tea, ginger root, cinnamon, and fennel seeds with natural flavor.)
Earl Grey Green (Gunpowder green tea and natural flavor.)
Chocolate Coconut Tea (Black tea, shredded coconut, chocolate chips, and natural flavors.)
Christmas Chai (Organic black tea, rooibos, ginger, cinnamon, green cardamom, vanilla and with natural flavors.)
Is your mouth watering yet? Can't wait for Xmas morning to steep a cup of that Christmas Chai!
Happy holidays and thanks to the folks at TEANZO 1856 for sending us this early Xmas present, remember you can pick up your own advent calendar, one of their other samples, or a big pile of any of their tasty teas at Teanzo.com.