There are hundreds of recipes that you can use to create a wide-variety of green tea matcha dishes, tea isn't just for drinking! Here's one that will warm your soul, your tummy, and leave you going back for a second helping. Maybe a third. No judgement.
What is Soul Food?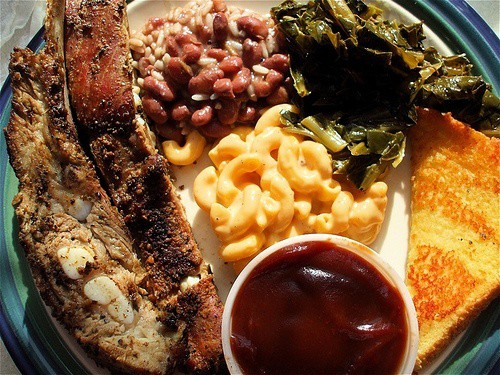 Soul food is a cuisine that's popular in the southern United States, known for being comfort food but also for the high fat, starch, sodium and cholesterol levels, so it doesn't really fit in to a healthy lifestyle, at least if you want to eat it on a regular basis. This recipe falls on the healthier side of the coin, so that you can enjoy it more often.
The first green tea matcha recipe is…
The first recipe we're going to feature that uses matcha green tea is a recipe for shiitake mushrooms in a green tea matcha wine sauce. Not too shabby, hey?
So, first of all, here's a list of what you'll need for this recipe..
Required Ingredients For Green Matcha Tea Shiitake Mushrooms In Matcha Wine Sauce
1/2 tsp of matcha green tea powder
4 ounces of shiitake mushrooms
2 tablespoons of butter, margarine, or your preferred substitute.
1/4 cup of shopped onions
1/2 cup of dry white wine
1/2 cup of whipping cream
1/4 teaspoon of tarragon (dried, crushed)
1/8 teaspoon of salt (you can leave this out if you prefer not to cook with salt!)
1/8 teaspoon of ground black pepper
Preparation Instructions For This Delicious Matcha Green Tea Recipe:
Remove the long stems from your shiitake mushrooms and then slice the mushrooms into strips.
Place a small saucepan on your stove over medium heat, and then melt the butter.
Once the butter is melted, add in your onion and mushroom strips and allow them to saute for about 3 minutes.
While you're waiting, whisk together the wine, the matcha powder, the cream, the tarragon in a medium bowl along with your salt and pepper.
Combine your onions, mushrooms and the mixture into the sauce pan until they come to a very light boil.
Lower the heat, and stir every few moments for 5 to 8 minutes.
Enjoy this wonderful green matcha tea creation with a unique flavor.
That's all there is to it! This is a fairly simple recipe with not much to clean up afterwards, and not much preparation either. You can also make this sauce for other vegetables if you're not a big fan of mushrooms, and it's great served with a lot of different dishes from chicken, steak, tofu, vegetables, rice, cous cous and more.
Let us know what you think!
If you try out this recipe, be sure to leave a comment below and let us know how it turned out, we'd love to hear! Do you have any suggestions of variations to make? Let us know that, too, and we'll share them with our readers to ensure that  there's something for everyone. Not everyone is a big fan of mushrooms, or perhaps of other ingredients in here, so be creative and see what you can come up with by using matcha green tea.