Tea doesn't have to be confined to a cup, in fact they can be an integral part of your gourmet meals when you start cooking with tea (Or, "gourmet"… we won't judge!) Pairing your cup of steeped tea with the perfect dinner is one thing, but actually using that tea as an ingredient for your food is entirely next-level!
You can use tea leaves as a dry rub, marinade, or poaching liquid, you can experiment with the wonderfully versatile Matcha tea with your baking, the options are limitless. Using tea infused recipes will open your culinary world, get inspired!
How to Start Cooking with Tea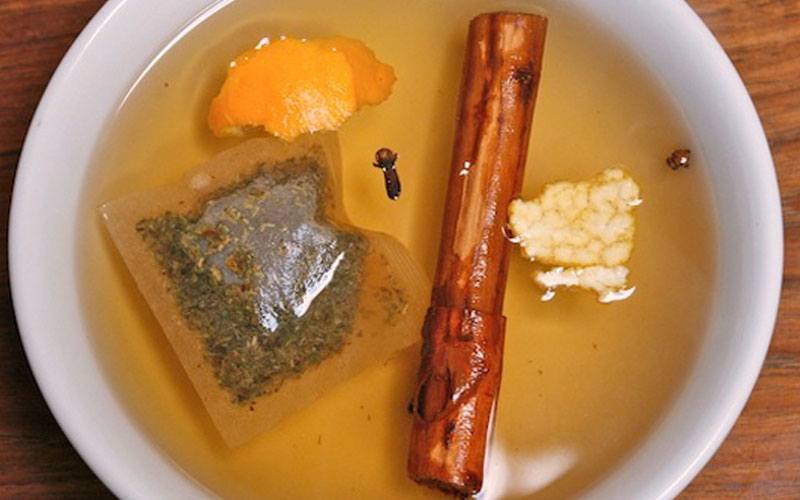 Tea leaves' fragrant characteristics will open a whole new world of flavor for your favorite recipes. Infuse butter with your favorite tea to use for baking, or to change up your regular toast with butter. Brew a concentrated batch to use in a marinade or use your tea leaves a dry spice to use as a rub.
The most versatile way to use tea in your day to day cooking or baking is to infuse butter with it, creating a brew of butter than can be used in to change up your favorite existing recipes or try some of ours.
Infusing Butter with Tea
Quite a simple process really, simply put butter in a pot and melt slowly. Stir in your tea leaves while making sure your mixture doesn't boil or burn.
Once the tea leaves are incorporated and the butter is fully melted and hot, take off the element and set it aside to cool down, about 15 minutes should be fine. This allows the tea leaves to infuse the butter with their wonderful flavor, whether its your favorite flavored tea or a classic like green or black tea.
You will want to strain the tea leaves out of the butter once it's infused. Simply re-heat the butter to a liquid state and use a slotted spoon or fine strainer. Leaving you with a totally smooth and silky butter that is totally unique. Dial in on the perfect amount of tea to butter for your taste, but the general mix is 2 tablespoons of tea for every 1 cup of butter.
Use this butter just as you would regular butter when baking or cooking. Get creative with it, try different tea's for different applications. A chamomile butter with toast and tea, or a sweet peppermint frosting.
BBQ with Tea
Take it a step further than the glass of iced tea while you barbecue in the summer, try spicing up your barbecue with tea. Whether you're using a shopping cart, or a high-end smoker, tea can add some awesome tastes to BBQ.
Use it to marinate your steaks or roast, or as part of the spice rub before grilling. Tea can add that extra depth of flavor to turn the average into the extraordinary.
Incorporate some black tea leaves with cinnamon and cocoa for a unique spice rub that is sure to please.
Dry Tea Rub Recipe

Directions:
Grind the tea leaves in a coffee grinder until they are very fine.
Combine the leaves with your favorite dry rub.
Apply directly to a piece of beef, pork or chicken.
Massage the rub on and grill until done
Try this rub on any cut of meat you want, pork chops, ribs, a beef roast, anything at all. These unique combinations add a savory flavor that will take your dish to the next level. Let us know how you enjoy it. We recommend trying it on lamb shanks or a pork roast.
This recipe may seem kind of simplified, but we want you to experiment and try things out. Simply adding some ground tea leaves into your current favorite dry-rub is the perfect way to experience the difference that the tea makes. From there, the sky is the limit!
Tea Sauce for Cooking
If you are going so far as to use tea leaves to season the food you're cooking, why not use it to accompany the dish as a sauce? Simply replace ¼ of your normal vegetable or beef broth with a strong brewed tea.
Reduce to a sauce with the ingredients of your choosing and watch as the subtle flavors you normally enjoy in a cup, transform your dish into a culinary masterpiece. Again, this recipe is purposefully vague because you'll enjoy cooking with tea the most when you start by adding it to your current faves!
Final Thoughts about Using Tea to Cook
There you have it, a few different tips, tricks and recipes for tea-foods. What's most important is to experiment, since just like every type of tea – everyone's tastes are different and unique.
If you find some other interesting recipes for dry tea rubs, or tea sauce,tea infused butter, or any other ways to enjoy the great taste and the health benefits of tea, let us know!
Some people like to keep it simple, and stick to a warm cup of tea, and of course – we love that, but it's also fun to try new, interesting ideas as well. There's even techniques about using tea bags for recipes.
Chime In!
We love to hear what you think about our articles, we put a lot of work into them because we love tea and we love feedback from our readers, so leave a comment at the bottom of this page and let let us know what you think about cooking with tea!
Lead image via Cooks With Cocktails.
Published March 2nd, 2013. Revised June 8th, 2015 and December 5th, 2017.