The best tea on Amazon depends on the type you are after, we have sipped and brewed, and brewed and sipped to devise an extensive list of great teas through Amazon, enjoy!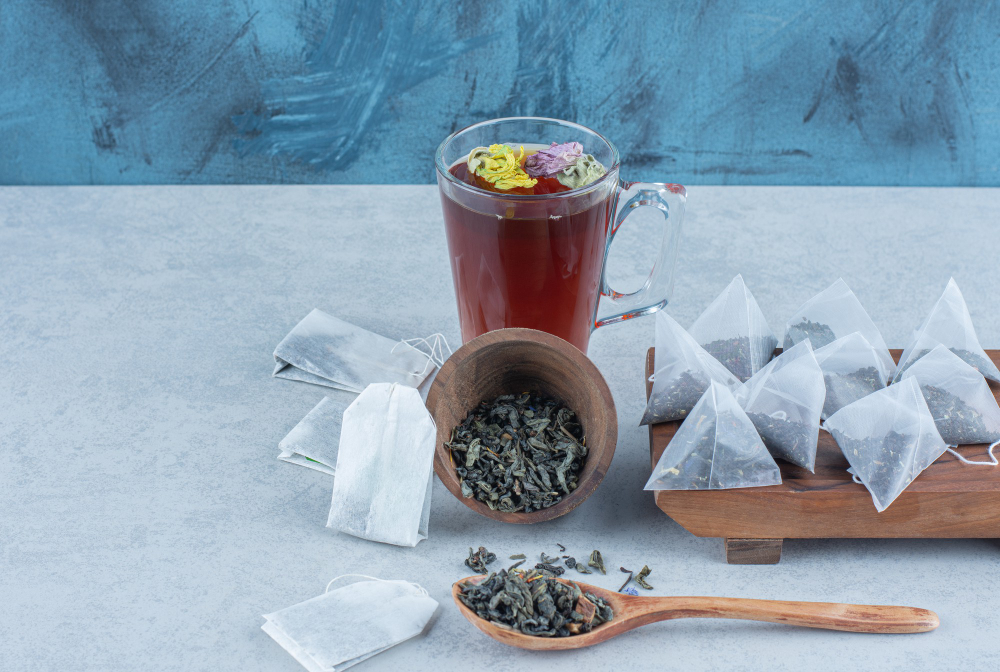 Millions of people around the world start their day with a cup of tea, as humans have done for thousands of years.
It's not hard to see why, as the leaves require only boiling water to create a delicious, caffeinated brew in a matter of minutes.
For many of us, however, the process is less simple. We have to find the BEST tea. The perfect brew to start our day, something worth getting out of bed for. 
The pursuit of perfection always complicates things. Luckily for you, we have compiled a list of the best tea on Amazon.
Our list includes both loose leaf tea and tea bags, depending on your brewing preferences.
No matter how you like to start your mornings or the millions of brewing variations your coworkers demand, the tea on Amazon will prove up to the task.
These teas all contain caffeine, which should be avoided by pregnant women and those with heart conditions.
Please consult with a doctor or other medical practitioner if you are unsure if certain tea blends are appropriate for your consumption.
Before You Buy
When finding the best tea, it is important that you assess each product according to the following factors.
Ingredients
Tea can be grown across the world, and its origins will impact the flavor of the blend. Certain companies even combine different origin teas to craft the perfect flavor.
As such, if you know that you enjoy Assam or Ceylon teas, be sure to see the products' origin labels to get an indicator of what it will taste like. 
For example, teas made in Rwandan tea gardens in Africa will taste completely different to those from the Daintree Rainforest in Far Northern Australia.
This is because the climate of a location flavors the leaves as they grow.
This is especially strong in regular black teas, as they are grown longer than green tea or white tea variations.
Caffeine Levels
Black tea is known for its strength, both in flavor and caffeine content. This impacts both your heart health and the amount you can drink every day.
It is important to enjoy all these teas in moderation and consult with your doctor if you have any health concerns.
It is worth noting that tea can be decaffeinated, both naturally and with chemicals, and it is possible to buy brews that are safer to drink for those who avoid caffeine.
Even at home, by brewing your tea for thirty seconds, discarding the tea, then reusing the same tea leaves or tea bag in new water, you can remove a large amount of the caffeine in your cup of tea.
Ethics
Not all countries have benefited from the global market equally, and it is important that you see that the tea leaves in the blends you buy are ethically sourced.
Many of the products will say where they source their ingredients and how they deal with environmental impacts from their products. 
Brewing methods
While the virtues of loose leaf tea vs tea bags are always up for debate, it is important to consider how you will be brewing your tea.
For everyday purposes, many of us are reluctant to bother with teapots and tea strainers, making tea bags a useful way to make convenient cuppas.
This is especially true if you plan to share your tea with others, as people in an office or your family may be more reluctant to bother with a strainer.
Best Tea On Amazon
As an Amazon Associate, I earn a small amount from qualifying purchases.
Taylors of Harrogate Yorkshire Gold Tea bags or loose leaf
As an Amazon Associate, I earn a small amount from qualifying purchases.
Ingredients:
Yorkshire Gold Tea is a robust black tea, crafted from a blend of three different tea leaves from some of the top tea gardens in Assam, Rwanda and Kenya.
The rich, malty flavor has been perfected by the same family in Harrogate, Yorkshire since 1886, ensuring you get the best quality and taste for your morning brew.
This high caffeine tea is a favourite of many around the world and can be enjoyed with milk and sugar or drunk black for a powerful start to the morning.
The company is dedicated to giving back to its local Yorkshire community and ensuring an ethical supply chain. Yorkshire Tea is also environmentally conscious, using only Rainforest Alliance Certified Growers and taking part in the Forest Stewardship Council (FSC) to support forest management and biodiversity. 
Pros:
Quality tea leaves
Rich and robust flavour
Ethical supply chain
Strong morning start
Good value price
Available in tea bags or loose leaf
Cons:
Price: 
Tea bags: 160 tea bags/ 17oz for $20 (around 12c per cup)
Loose leaf: 8.8 oz for $9 (around 9c per cup)
Teavana Peach Tranquility
As an Amazon Associate, I earn a small amount from qualifying purchases.
Ingredients:
Apple 
Rosehips
Candied pineapple (sugar, pineapple, citric acid) 
Chamomile flowers
Peach
Licorice root 
Lemon verbena
Chamomile pollen
Natural flavor.
While this blend is not actually a tea but a herbal and fruit tisane, it will still create a delicious and refreshing brew, perfect for tea lovers and tea novices alike.
Teavana's Peach Tranquility blends the comfort of chamomile flowers with tropical fruits and licorice root to provide a sweet treat that is ideal for a caffeine-free start to the morning.
They use quality ingredients and tested blends to ensure the flavor of their sachets is perfect.
Teavana is ethically conscious, using only ethically sourced ingredients and supporting tea-growing communities and farms that are Rainforest Alliance, UTZ or Fair Trade certified.
The Starbucks foundation they are owned by also gives some of its proceeds to charities such as women's economic leadership, healthy homes, and WASH, making sure your money is ethically spent.
Pros:
A quality blend of herbs and fruits
Refreshing, fruity flavor
Ethical supply chain
Caffeine-free
Cons:
Not actually tea
Might be too fruity for some
Price: 60 tea bags/ 8oz for $27 (around 45c per cup)
As an Amazon Associate, I earn a small amount from qualifying purchases.
Ingredients:
Black tea leaves
Orange peel
Cinnamon
Artificial and natural flavors
One of the original Harney & Sons teas and still their most popular, Hot Cinnamon Spice is similar to a Chai tea and offers a delicious alternative to traditional black teas.
Ideal for cuddling up on a cold or wet day, this blend contains robust tea leaves, orange peel, three different types of cinnamon, and sweet cloves.
Their pyramid tea sachet shape allows you to enjoy the quality of their tea leaves with the convenience of a teabag, all in a beautiful metal tin.
Harney & Sons are members of the 1% For The Planet, helping to promote environmentally conscious production by donating 1% of all their profits to this charity.
The reusable tin also helps to limit packaging, improving your impact on the planet, as well as your kitchen shelf aesthetics. 
Pros:
Delicious and spicy Chai tea blend
Quality tea leaves
Ethical company
Reusable tin 
Good value price
Cons:
Has caffeine 
Could be too spicy for some people
Price: 30 tea bags for $13 (around 43c per cup)
VAHDAM, Himalayan Green Tea Leaves
As an Amazon Associate, I earn a small amount from qualifying purchases.
Ingredients:
Full of natural antioxidants and flavonoids, this hand-picked Vahdam Green Tea is from high elevation tea plantations in the Himalayas.
It is a delicious, low caffeine option that can be drunk a few times throughout the day.
This green tea comes in a vacuum-sealed pack containing large loose leaf tea, that can be brewed hot or cold, if you prefer an iced tea.
Its quality and value make it the best green tea available on Amazon and a must-have for your tea cupboard.
Vahdam is an environmentally conscious brand, being both certified carbon neutral and plastic neutral, by offsetting any omissions through investing in India's sustainability.
They are also dedicated to ethical fair-trade production, running their own social initiative TEAch Me to educate their farmers' children, and ensure their farmers get paid a fair price for their produce.
Pros:
Delicious and natural
Ethical and environmentally conscious 
Low caffeine
Good value price
Cons:
Price: 3.5oz for $15 (around 30c per cup)
Lipton Tea Bags Black Tea
As an Amazon Associate, I earn a small amount from qualifying purchases.
Ingredients:
Lipton's Black Tea is popular across the world and is a best seller here in the USA.
Made by using orange pekoe leaves, this tea had a strong, slightly flat flavor that is better suited to making iced teas than other options.
It lacks the blended nuance of many of our other teas, but may be the best option for those who aren't big tea drinkers and are inexperienced with the different flavor palates of tea.
Lipton is Rainforest Alliance Certified, and thus works to provide good environmental and economic conditions at every stage of their production.
As such, this is a cheap, ethical product to keep in your work cupboard for those seeking a morning caffeine fix.
Pros:
Low price and bulk buying
Environmentally friendly
Strong flavor
Suited to making iced teas
Cons:
Flat flavor
Unknown growing origins
Price: 312 tea bags/ 24.9oz for $17 (around 5c per cup)
T2 Tea – Melbourne Breakfast Black Tea
As an Amazon Associate, I earn a small amount from qualifying purchases.
Ingredients:
Black tea
Natural and artificial vanilla flavoring
If you find the tea too bitter, T2's Melbourne Breakfast tea may be the solution for you! Similar to our other teas, this one has a black tea base with premium Indian and Chinese teas to add body and smoothness.
Unlike our other options, this tea uses natural and artificial flavors to sweeten the brew without added sugar.
This gives it slight vanilla and honey notes, making it a favorite worldwide. 
T2 strives to be ethical with all their products, as their Melbourne Breakfast tea bags come in a reusable, airtight metal container and are biodegradable.
They are also a climate compensated B Corp company, so you know your funds are going to the farmers and growers who earned them. 
This is perfect for those who don't usually drink tea or want a guilt-free treat to sweeten their day!
Pros:
Quality tea leaves
Vanilla and honey flavors to reduce bitterness
Ethical company
Biodegradable
Convenient to use and dispose of
Reusable tin
Cons:
High caffeine content
Contains flavoring
Price: 60 tea bags/ 4.2 oz for $29 (around 48c per cup)
Frequently Asked Questions
What is The Best Loose Leaf Tea?
Loose-leaf teas are a great option for anyone seeking to reduce the packaging in their teas and are commonly considered to have a stronger flavor than the bags by tea lovers.
This is because the tea is not cut into small pieces and retains its flavor.
While finding the best teas is often a matter of preference, those seeking a robust blend to begin the morning with will enjoy Taylors of Harrogate Yorkshire Gold Loose Leaf.
It is a fantastic loose leaf tea at a great value price.
Can I Drink Tea Every Day?
There is evidence to suggest that having black tea each day is good for your heart health and certainly won't hurt if taken daily.
For those who need to avoid caffeine, please speak with your doctor before drinking tea.
Having sugary teas should be avoided, however, as these are not healthy as part of a daily diet.
So, while you can drink it daily, examine your diet and determine the best tea for you.
You can also get caffeine-free tea if you want to have multiple cups of tea each day. 
Is Drinking Green Tea and Black Tea Good For You?
Green tea is rich in antioxidants and contains less caffeine than regular tea.
Despite the higher caffeine content, black teas are not unhealthy and have been linked to good heart health.
It is worth noting that matcha green tea has much more caffeine than sencha green teas, as it involves grinding up and consuming the tea leaves, rather than brewing an infusion from them.
Enjoy both in moderation, unless a medical expert has advised you to follow a caffeine-free diet.
Does Drinking Tea Make You Lose Weight?
The news reports different stories all the time about whether or not caffeine is helping or ruining our bodies and diets.
There is no tea that is a good replacement for food in your diet.
While drinking fluids is important for maintaining body health and the protein from added milk will help you feel full and healthy, you must enjoy tea as part of a balanced diet.
For those seeking to improve their body health, drinking the tea black or without sugar is a good step to lowering the calories in it.
Tea also has laxative qualities, which may hinder body health if taken in large quantities. Enjoy everything in moderation. 
Is It Safe to Buy Tea on Amazon?
It seems you can purchase anything on Amazon these days, and tea is no exception.
Forget going down to the grocery store only to find out they are out of the tea you want, the best tea on Amazon is only a click away.
Simply read through our product guide and read the reviews of the different tea available on Amazon to make an informed choice.
What Teas Are Not Bitter?
Bitterness is one of the main complaints about tea, and a large reason why people scrunch their noses at it.
Drinking tea with milk and sugar is a popular solution to this, but having infusion blends such as Earl Grey or Chai teas are another.
T2's Melbourne Breakfast tea is another great solution to this, as it brings vanilla and honey flavors to your brew without the added sugar. 
So, What Is the Best Tea Amazon Has to Offer?
There is a lot of tea on Amazon, and it can be confusing to navigate through and find your next favorite tee.
For a strong, black tea brew that's available as loose leaf tea or in bags, we recommend Taylors of Harrogate Yorkshire Gold, which combines a robust, quality blend with value for your money.
If you are looking for a green tea, spiced blend, or caffeine-free tisane, our list has some great options available from fantastic tea brands. 
Happy Sipping!