Assam tea is one of the most popular types of black tea around the world and is often blended with other leaves to produce a robust cuppa that's great for any time of day. But, as with other teas, it does have its own unique history and cultivation methods, not to mention a flavor profile that is as delicious as it is distinct.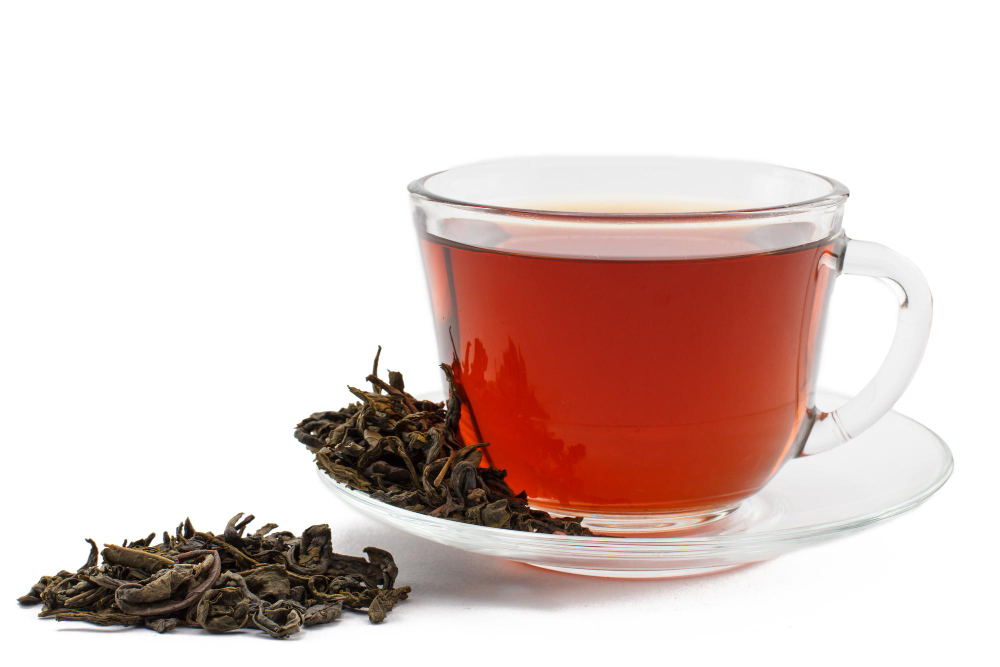 If you're looking to get into the world of Assam black tea but don't know where to start, you're in the right place. This article is all about Assam and will give you a quick look at the background of the tea, its health benefits, and of course, which the best Assam teas really are.
What is Assam Tea?
The Assam tea plant is also known as Camellia sinensis var. Assamica, and is a variety of black tea named after its place of origin – the Assam region in northeast India. Found south of the Eastern Himalayas mountain range, the area has a climate that is great for growing tea leaves.
Assam black tea leaves grow best at lower altitudes, with the ideal range falling between 145 to 160 feet above sea level. In terms of temperature, the tea leaves grow in a humid and tropical climate with plenty of rain and atmospheric moisture.
When is it harvested?
In ideal conditions, Assam tea leaves are harvested twice per year: in April before the start of the heaviest rains, and in June when the monsoon rains begin their downpour. If the black tea leaves are picked during the June harvest, the leaves will likely have a more malty taste and aroma, which is typically used in blends that favor a more intense taste.
As mentioned above, Assam black tea production favors humid conditions as it encourages a more efficient fermentation of the tea, which develops the flavor. And, just as with its Chinese counterpart, this particular tea plant is oxidized and dried which brings out the intensely dark color.
What Does Tea Taste Like?
Like with most black tea choices, it all comes down to flavor! After all, no one is going to want to have a hot drink that tastes bad, right? Well, thankfully for fans of Assam tea and black teas in general, this particular leaf has a profile that we think you'll love.
Generally, Assam tea is known as being strong, full-bodied, and with a distinctly malty and musky flavor. The overall taste is rich and complex and very typically that of black tea. This is why Assam is actually one of the most popular leaves in black tea blends, as it provides a strong base for the rest of the flavors. 
Some forms of Assam tea (such as CTC) are even stronger and maltier but are usually found in tea bags instead of loose leaf teas. And, again it makes for a fantastic base for other blends. Russian, Scottish and English teas use Assam tea in many of their black tea blends, especially brands that boast a 'Strong English Breakfast' tea. Milk and sugar are generally used alongside Assam, but not to soften the taste: they just fit well together.
A general rule of thumb is that the longer the fermentation period of the black tea, the more malty, full-bodied, and complex the end result will be – and this affects caffeine levels too (more on that later).
Health Benefits of Assam Tea
As with other teas, Assam black tea does come with its respective health benefits. However, it should not be considered as a cure for anything: just something that may help. Research is still being done.
Heart – The active compounds found in Assam teas have also been linked to the health of your arteries and blood vessels. They reduce the hardening of arteries and the accumulation of plaque inside them, which can reduce the risk of cardiovascular conditions such as strokes and heart attacks.
Metabolism – As we know, caffeine is a substance that stimulates the body and raises the overall metabolic rate. As well as giving you an energy boost it can help with the acceleration of normal bodily functions. Assam teas are naturally high in caffeine, so can therefore help with this.
Cancer – Research has shown that black tea leaves such as those in Assam contain phenolic compounds and other antioxidants, which could potentially reduce the spread of cancer. However, the research is still ongoing.
Cognitive function – Studies have shown that the caffeine and antioxidants found in black teas such as Assam can help with mental alertness. There has also been a link between black teas and the reduction of oxidative stress in the brain, which may be one of the causes of Parkinson's disease and other neurodegenerative conditions.
Weight management – By increasing your base metabolic rate and increasing your overall energy levels, black teas such as Assam can play their part in weight management. However, if you want to lose weight with tea, you're probably better off with herbal and green teas.
Digestion – Once again, caffeine shines through. As a natural stimulant, the caffeine in Assam black tea increases your metabolism, which in turn helps with digestion. The tea also has a mild laxative effect, which can promote healthy and regular bowel movements. 
Does Assam Tea Contain Caffeine?
Similar to other varieties of natural black tea, Assam contains caffeine. Although herbal and green teas typically contain less it's not too much to worry about, as coffee will always have more than any tea. 
In general, a cup of full-bodied Assam black tea will contain about 50-90 milligrams of caffeine per cup. To help put that into perspective, a typical cup of black coffee will have around 100-150 milligrams per cup. One thing that's important to bear in mind is the way you brew your tea. If you leave the loose leaves or tea bag inside the cup for longer, the tea will have more time to infuse – resulting in a stronger taste and higher level of caffeine. 
Are there any side effects to Assam tea?
While tea itself is unlikely to have any bad effects on someone, the caffeine content could have some side effects. For instance, the energy boost can increase your heart rate and intensify issues such as restlessness, nervousness, anxiety, headaches, and problems sleeping.
However, to have any significant issues you would have to consume a lot of caffeine, so you are at low risk if you just have a few cups. However, if your doctor has told you to avoid caffeine or you do have a heart condition, you should follow their advice and opt for decaf varieties.
How to Brew The Best Assam tea
If you're someone who prefers their cup of tea pure and simple, read on for basic instructions on how to prepare Assam black tea. For a creamier and full-bodied version of black tea, you might be interested to learn how to make Assam milk tea. Either way will produce a rich brew that can be enjoyed anytime you need a lift. Also, if you choose tea bags or loose leaf tea, you'll need to modify these instructions slightly.
Basic Instructions:
Aim for the water temperature to be between 203 ºF – 212 ºF and make sure the water used is of good quality. Use a round porcelain teapot to ensure that the leaves get a chance to move freely and pre-heat the pot with hot water before tipping it out and adding the boiled water.
Ingredients:
1 tsp of Assam loose tea leaves per cup of water (more if you prefer it stronger.)
Milk and sugar to serve, if desired.
Method:
Bring the water to just before boiling or to the temperature range noted above. 
Place the tea leaves into the pot and pour the water over and place the lid on. 
Let it steep (using a tea cozy if you like) for 3 – 5 minutes, depending on how weak or intense you prefer your tea.
Strain and add milk and sugar if needed.
Buying considerations
The Internet is a wonderful thing and gives you so much choice for all your shopping needs. But, if you're looking for the best Assam teas and brands you might find yourself overwhelmed with the number of products. Here are a few things to think about when browsing around.
Understand the blend
Some blends will be pure organic Assam black tea, whereas others will combine it with other leaves for a different kind of taste. If you don't prefer your tea to be too strong, we recommend going for a blend that has Assam as a component, but perhaps not the main one. You can also choose from loose leaf or tea bag options, which will also have an effect on the blending and overall taste.
Looking for organic?
If you're looking to have fresh Assam black tea, you'll want to make sure that it is sourced and produced in a natural, organic, and sustainable way. Check the packaging and product description for more information on the production method, and whether or not your tea is organic or not.
Taste
The flavor of your tea will be one of the main things you'll notice as a consumer. Some brands will have a more full-bodied taste than others. If you want something that hits hard, go for pure Assam teas, but if you want something a little smoother, look into blends that have a more balanced mix. Teabags tend to be a little less intense than loose-leaf products.
Brand
There are a lot of choices out there, from small producers through to global heavyweights. If starting out or in doubt, we recommend going for the more well-known brands. That way you have a better chance of a quality product and packaging. Look for Lipton, Tetley, Tazo, Twinings, and Harney & Sons. 
Reviews
One of the good things about shopping online is that you can read the impressions from real customers, just like you. Product descriptions are there to sell, and if you can, it's always better to hear from someone who has already tried the tea. We recommend choosing black tea options that have lots of positive reviews, and to avoid those that have few or no reviews at all. 
The Best Assam teas: Overview
We will go into more detail below, but if you want us to cut to the chase, here they are. However, we do recommend reading on: just so that you can make the right choice for your next cup of daytime or breakfast tea.
Best popular
As an Amazon Associate, I earn a small amount from qualifying purchases.
Popular doesn't always necessarily mean the finest, but with Taylors of Harrogate tea company, you're always making a safe bet. As one of the largest tea brands in the world, you can be sure they know a thing or two about quality and blending.
This is currently the most popular organic Assam black tea brand on Amazon, and for good reason too. The reviews are in the thousands and are mostly positive, indicating that this is the real deal. And the tea itself? It checks all the boxes. Strong, full-bodied, ethically produced, and with great packaging. A great choice for anyone trying Assam teas for the first time.
Best strong
As an Amazon Associate, I earn a small amount from qualifying purchases.
Sometimes you just want a cup of black tea that'll give you a kick in the morning, and in your tastebuds as well. Twinings are a well-known brand and know a thing or two about teas, so we believe them when they say 'strong'.
Their Assam tea offers a bright and malty flavor that gets increasingly full-bodied the longer you steep it. The flavor is definitely strong, but doesn't go overboard – and is great with milk and sugar as well. This particular blend says that it is one of their strongest black teas, so do let us know if you agree! Their packaging is also up to scratch, with foil-protected tea bags for freshness.
Best loose leaf
As an Amazon Associate, I earn a small amount from qualifying purchases.
If you're a tea purist and always prefer loose leaf teas, we're with you. The ritual of infusing the leaves with water is relaxing, and you get a more rounded taste as well!
The Frontier Co-op loose leaf Assam black tea is one of the finest you can get. This Tippy Golden Flowery Orange Pekoe tea is 100% Assam and has a brisk, malty flavor, as well as a bright color to get your day off to a great start. A fantastic choice for fans of whole leaf tea.
Best ethical
As an Amazon Associate, I earn a small amount from qualifying purchases.
Vahdam India is a company that gives more than a fantastic cup of tea. From offsetting the plastic used in their packaging through fair trade cultivation to donating 1% of all sales towards the children of tea workers, they are really in the spirit of things.
Their organic Assam black tea follows this ethic and is produced in a sustainable and authentic way. They use whole leaves in their pyramid tea bags and offer a 100% unblended Assam experience.
Best breakfast tea
As an Amazon Associate, I earn a small amount from qualifying purchases.
Yes, another Harney & Sons entry! For many of us, mornings are to be dreaded – but not when you have a fresh up of Irish Breakfast tea waiting for you. Made from 100% Assam, this loose leaf product is one of the nicest ways to enjoy the Indian wonder.
With subtle notes of malt and a whole lot of character, Harney & Sons' Assam black tea offering is a brilliant way to start the day in the right way. We recommend adding milk to your whole leaf tea and even a little bit of sugar if the flavor is a little too malty for you.
Best natural
As an Amazon Associate, I earn a small amount from qualifying purchases.
While many tea brands pride themselves on the quality and organic characteristics of their product, Two Leaves and a Bud are a company that makes it the center of their being – complete with eco-friendly packaging and production methods.
Their organic Assam black tea is a variety known as Orange Pekoe and produces a rich brown and gold appearance with a multilayered and malty flavor. And, as they use pyramid tea bags the tea is able to infuse more effectively for a rounded and delicious taste.
Best Decaf
As an Amazon Associate, I earn a small amount from qualifying purchases.
Not all of us always want to have caffeine, so this offering from Harney & Sons is the perfect choice. It comes with all of the wonderful flavor and complexity of Assam, but without the stimulants that will raise your heart rate or make it difficult to sleep.
The reviews are generally very good and praise the fact that the flavor does remain nice and malty. And, because the tea is produced by the legendary Harney & Sons, you know that the quality of the tea leaves will be top-notch as well. And, as this is a whole leaf tea, you can infuse it as little or as much as you want.
It's time to get your Assam!
Assam tea is deep, robust, and complex – and hopefully, when you have your next cup you'll know a little bit more about where it comes from and what your preferences are. We hope that the above list of the best Assam teas has been useful for you and that after trying a few, you'll find your favorite.
We love learning about new teas here at Tea Perspective, so if you have any brewing tips or think that we've missed out on a great product from our list, just get in touch and let us know. Until then, put the kettle on, grab your favorite mug and whip yourself up a fantastic black tea.