Started in Portland, 1972, by two hippies with a dream and passion for quality tea, Stash Tea has become a powerhouse of delicious and high quality tea blends.
Ever since they incorporated package fulfillment in 1975 and started supplying restaurants, their range has exploded, now offering over 150 different teas.
Whether you're looking for a range of Christmas teas or to get your latest pumpkin spice fix, Stash Tea has you covered.
The company lives up to their hippy roots, using only natural ingredients and sustainable packaging.
With recyclable boxes and compostable tea bags or loose leaf teas, Stash Tea products are a great way to enjoy delicious brews while reducing your impact on the environment.
The company has also been a B Corp company since, 2017, demonstrating their commitment to improving their social and environmental performance, transparency, and accountability.  
The term 'tea' casts a wide shadow, often incorporating everything from black to white teas, as well as various fruit and herbal tisanes.
Stash Tea has an option for all of these. Before choosing which teas to order, it is important to consider what properties and flavours your teas have, as well as how you plan to brew them.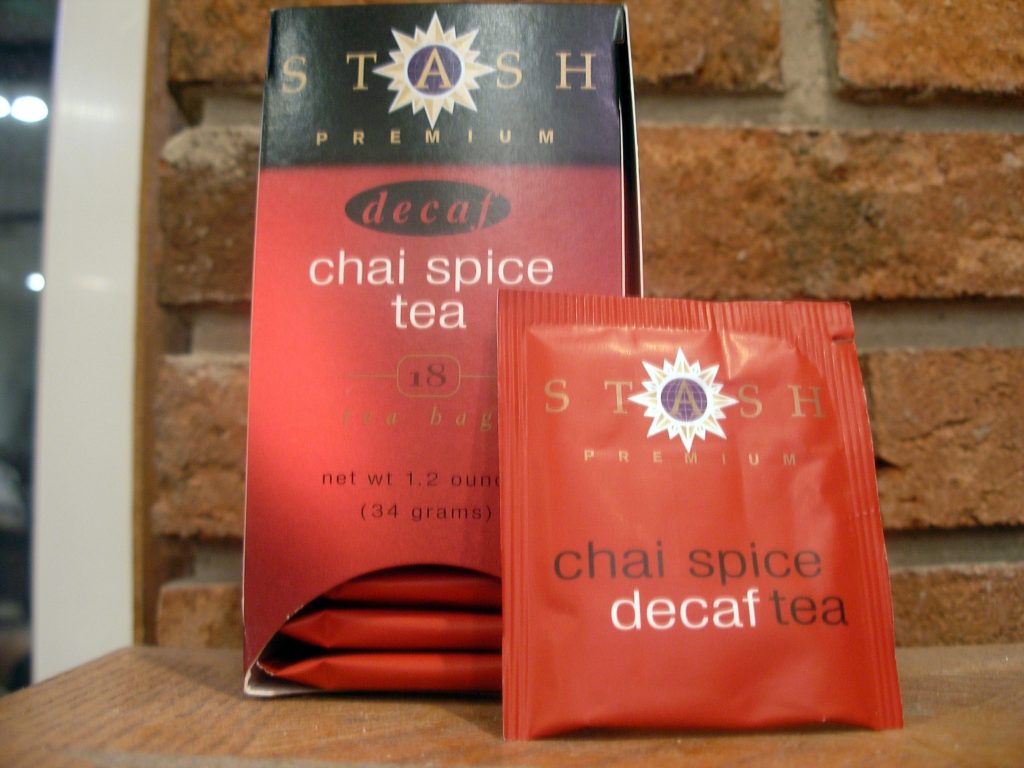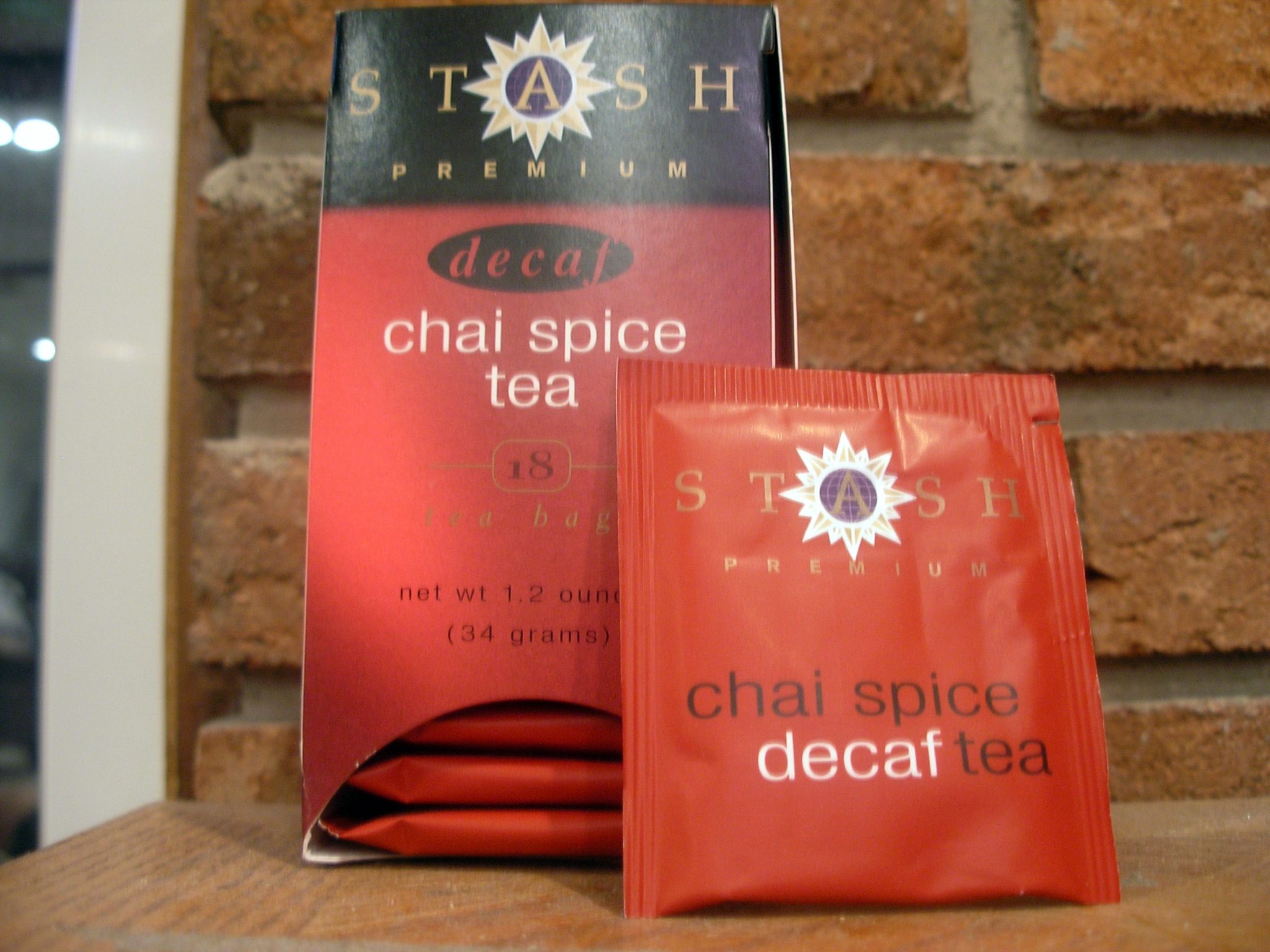 Before You Buy Stash Tea
Ingredients
Good tea requires the best ingredients. Luckily, Stash Tea agrees with this philosophy, and only includes high quality, natural ingredients in all their teas.
These range from different tea leaves to herbs and fruits, and it is important to know what you are looking for when browsing for teas. 
Black teas have the strongest flavour, while green teas are fresher and white teas are very light and refreshing.
Oolong tea is a combination of black tea and green tea flavours, and creates a rich and smooth blend.
Most tea blends will include only one type of tea leaves, but some will have a combination, such as green and white tea leaves. 
Any edible herb and flavourful fruit can be turned into tea by drying their parts and including the pieces in a blend.
The most popular herbal ingredients include chamomile, peppermint, ginger and cinnamon, all of which have their own unique characteristics.
Many of these herbs have reported therapeutic benefits, and can be taken for symptomatic relief.
Berries and citrus fruits are common inclusions as well and are typically added for flavour benefits.
Please see a medical professional if you are concerned about using any of these herbal remedies or you have preexisting health conditions, such as pregnancy.
Caffeine Levels
Caffeine consumption is a consideration of many health enthusiasts, and different tea blends have varying levels of caffeine.
Caffeine should be avoided by pregnant women or those with other health concerns.
Please consult with your doctor about which teas are suitable for you, and see our recommendations for caffeine free teas if needed. 
Black tea has the highest caffeine content, and it is not recommended to have more than a few cups per day, especially towards the evening or back to back.
Oolong tea and green tea have less, although matcha (where the green tea leaves are ground up and consumed) has high levels of caffeine.
White tea has the least caffeine of the tea leaves, and is more suitable for late afternoon or evening drinking.
For those avoiding caffeine, there are many delicious tisane options that you can enjoy which will refresh and rejuvenate you.
Brewing Methods
While all the teas we provide on this list are linked with a tea bag option, Stash Tea has a range of loose leaf tea available.
This was the brand's flagstone option when they opened in 1972 and remains a popular option in their store.
Many people love loose leaf tea brewing, however, you can still get a fantastic cuppa with a tea bag.
If you know you value the convenience of a tea bag, do not stress about choosing this option over the loose leaf one.
Stash Tea's tea bags are compostable and designed to deliver the same flavor quality as their loose leaf teas.
Stash Tea Review Summary
As an Amazon Associate, I earn a small amount from qualifying purchases.
As an Amazon Associate, I earn a small amount from qualifying purchases.
Ingredients:
Blended black teas
Cinnamon
Ginger root
Allspice
Natural cinnamon flavor
Clove bud oil
Cardamom oil 
This interpretation of Indian masala chai blends flavourful spices with high quality black teas.
The Stash Tea Chai Spice is delicious black or with milk, and is naturally sweet, even without added sugars.
This aromatic tea has notes of almond to complement its cinnamon, ginger and clove blend.
It is the perfect treat for a morning, using blends of Assam, Darjeeling and Nilgiri teas to provide a robust brew that will wake you up and soothe your soul.
Pros:
High quality, natural ingredients
Sweet and spicy
Blend of balanced black teas
Cons:
High caffeine content
Some spices may be unsuitable for you
As an Amazon Associate, I earn a small amount from qualifying purchases.
Ingredients:
Blended black teas
Bergamot extract
Seeing how popular their Earl Grey tea had become, Stash Tea decided to give the people what they wanted and released this Double Bergamot Earl Grey.
With even more of their top grade oil of bergamot, this citrusy blend is the perfect way to refresh. It brews a beautiful amber colour and has a light, fragrant aroma.
Perfect for the afternoon or as an iced tea, Stash Tea's Double Bergamot Earl Grey is the favorite tea of many for a reason! 
Pros:
Delicious citrus flavour
Natural oil
High quality ingredients 
Cons:
Strong citrus flavour 
High in caffeine
As an Amazon Associate, I earn a small amount from qualifying purchases.
Ingredients:
Hibiscus
Lemongrass
Rosehips
Orange peel
Licorice root
Natural raspberry flavor
Not only are herbal teas full of natural vitamins and properties, but they taste delicious and are a fantastic source of hydration.
This amazing mix of hibiscus, lemongrass, rosehips, orange peel and licorice root is flavored with natural raspberries for a bold, vibrant flavor.
This tisane is naturally caffeine free and tastes great either hot or as an iced tea.
If you want a slight caffeine buzz, this one blends beautifully with their Premium Green Tea.
Pros:
Caffeine free
Vibrant fruity blend
All natural ingredients
Works great as iced tea
Cons:
As an Amazon Associate, I earn a small amount from qualifying purchases.
Ingredients:
This Japanese style green tea is crafted from high quality leaves, carefully handled to preserve their flavour, fragrance and vibrant green colour.
When brewed, Stash Tea's Premium Green tea creates a delicate aroma with a sweet and nutty flavor. It is rich in antioxidants and low in caffeine, making it an ideal brew to enjoy multiple times throughout the day. 
Pros:
Delicious sweet and nutty flavor
Low in caffeine 
Natural and high quality tea leaves
Cons:
Contains caffeine
Can be bitter when over brewed
As an Amazon Associate, I earn a small amount from qualifying purchases.
Ingredients:
Licorice root* 
Cinnamon
Orange peel
Star anise
Vanilla extract
Sarsaparilla
Orange oil
Natural cinnamon flavor
Clove bud oil
Cardamom oil
Licorice root is so naturally sweet that it used to be chewed on like candy by children who lived near the farms. Its tea is no exception.
Stash Tea's Licorice Spice is a delicious herbal tea that combines licorice root with cinnamon, orange peel, star anise and vanilla for a caffeine free treat.
Having no added sugar and a delicious nectar-like taste, Licorice Spice is a lovely guilt-free treat.
*Licorice root is not suitable for pregnant or breastfeeding women or those with heart conditions. Please consult with a doctor if you have any concerns before drinking. 
Pros:
Naturally sweet and spicy
Caffeine free
Natural and high quality ingredients
Cons:
Not suitable for certain medical groups
As an Amazon Associate, I earn a small amount from qualifying purchases.
Ingredients:
Green Tea
Ginger Root
Natural Flavor of Peach
Matcha
If you want a more fruity and vibrant take on their Premium Green tea, Stash Tea's Ginger Peach tea is perfect for you!
Incorporating the natural flavors of ginger and peach with high-grade matcha tea, this tea is perfect hold or cold.
Whether you need the antioxidants and gentle caffeine of green tea or the digestive aid of ginger, this tea has you covered.
Ginger Peach is made from all natural ingredients with no added sugar, so this is a treat you can feel good about enjoying.
Pros:
Natural and quality ingredients
Deliciously fruity and zesty
Low in caffeine 
Great for ice tea
Cons:
As an Amazon Associate, I earn a small amount from qualifying purchases.
Ingredients:
Blended black teas
Lavender
Bergamot extract
Vanilla extract
When you want a more romantic twist to your Earl Grey, Stash Tea's Breakfast in Paris tea is here to save you.
This aromatic and floral blend uses high quality black tea with natural lavender, and bergamot and vanilla extracts.
With the soothing sweetness of the lavender and vanilla, and the buzz of full-bodied black tea, Breakfast in Paris is the best way to begin your day (accompanied by a croissant, of course!)
For that special season, be sure to give their gorgeous herbal blend Christmas in Paris a try!
This tea mixes the lavender and vanilla with cocoa and peppermint for a guilt-free treat that's sure to become your new festive tradition. 
Pros:
Delicious twist on Earl Grey
Natural and quality ingredients
Unusual blend
Cons:
As an Amazon Associate, I earn a small amount from qualifying purchases.
Ingredients:
Cinnamon
Hibiscus
Chamomile
Natural apple flavor
Wishing you could indulge in hot apple pie everyday without having to worry about the calories?
Me, too! But don't worry, Stash Tea's Cinnamon Apple Chamomile Herbal Tea is the perfect solution.
This all natural blend of cinnamon and apple with chamomile and hibiscus tea has all the sweetness of your favourite dessert with no added sugar.
This aromatic and soothing tea also has the benefits of chamomile, making it the perfect tea to end the day with as a guilt-free dessert. 
Pros:
Delicious apple pie flavour
Natural and quality ingredients
Caffeine free
Chamomile to promote sleep quality
Cons:
Might make you sleepy if drunk in the morning
As an Amazon Associate, I earn a small amount from qualifying purchases.
Ingredients:
Oolong tea
Peppermint
Natural chocolate flavor
Cocoa powder
Carob powder
Another sugar free alternative to your favourite treats? You bet! The delicious combination of mint and chocolate is revived in Stash Tea's Chocolate Mint oolong blend.
With its all natural and high quality ingredients, this is the guilt-free alternative you've been looking for to get your chocolate fix.
Part way between green teas and black teas in its oxidation and fermentation processes, oolong tea contains less caffeine than black tea and a beautiful smooth flavour.
The deep and rich flavour of the wild Wyui oolong beautifully compliments the chocolate flavours of the tea. 
Pros:
Delicious chocolate and mint flavour
Natural and quality ingredients
Wild Oolong for a rich flavour
Less caffeine than black tea
Cons:
Frequently Asked Questions
Is Stash Tea Good Quality?
Stash tea is a premium quality brand. Despite their affordable prices, their tea blends are made of all natural ingredients from an ethical supply chain.
Every part of their tea bags are compostable and made in a sachet shape to limit the cutting up of tea into bags and retain the leaves' quality. 
Is Stash Premium Green Tea a Good Brand?
Stash makes a fantastic green tea, both in their premium green tea and the green tea included in their blends.
Their Premium Green tea has a delicate aroma with a sweet and nutty flavor and is made with high quality Japanese green tea leaves. 
Are Stash Tea Bags Safe?
Stash tea bags are completely safe. They have no microplastics, instead being made of compostable 100% wood cellulose fibers. These are not only safe for you, but also great for the planet! 
Which Tea Brand Is The Healthiest?
There is no specific tea brand that is healthier than others.
However, if you are looking to get health related benefits from teas, using brands like Stash Tea will help you get the benefits of natural ingredients.
Watch out for brands that use artificial flavors, sweeteners or GMO ingredients. 
Final Thoughts
Figuring out the best tea to buy is a personal decision, and depends on your tastes and needs.
In saying that, I must admit that I wished I was drinking the Breakfast in Paris tea while I was writing this and also enjoyed a Cinnamon Apple Chamomile this evening.
These two may be my top picks, but I recommend you go through our list and consult their website to discover which of the delicious Stash Teas are right for you.