Tea is a wonderful herbal treat: it's delicious, it's natural, and it's good for the body. But so many tea drinkers stick with their favorites, created from the basic bases of black, green, and white teas. As great as these common teas are, there's a whole host of teas blended from different leaves and herbs — and they offer the body entirely different benefits. Matula tea is most likely a tea you have yet to try, but it's one that does wonders for those who seek a new taste, along with some important potential health benefits.
What is Matula Tea made from?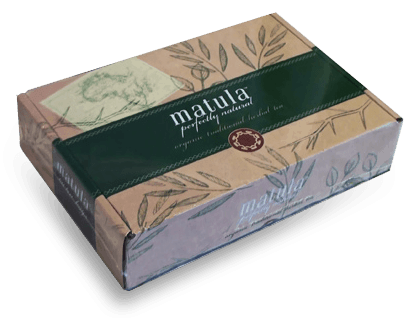 Matula is, like other tea blends, a mix of many different herbals and natural ingredients. According to Matula Naturals, it's a tea that grows wild — unlike many others grown and harvested in controlled environments.
The herbs that make Matula tea are found only in the mountains of Southern Africa, in very small and remote locations.
Each herb is hand-picked from its natural environment. Then they're dried under the rays of the sun. Finally, they're blended and packaged into individual bags. This means the ingredients within Matula are untouched by pesticides, additives, and other potentially harmful inclusions.
In each tea bag or box of Matula tea are the following herbs:
Oleaceae, which is related to olive trees;
Asteraceae, also known as aster;
Alliaceae, an herb closely connected to onions and chives;
Fabaceae, which is a member of the bean family;
Myrtaceae, an herb related to clove, allspice, and other spices.
Its blend also includes some unnamed finely ground flowers, stems, and leaves of the plants from which these herbs grow.
Make sure to choose a Matula tea blend that is 100 percent natural, according to its packaging or its supplier, to be certain you're sipping an unaltered tea.
Why choose Matula?
You know tea is packed with antioxidants and other health-helping compounds, but every variety benefits different ailments. Matula tea offers a different body benefit — it can treat stomach ulcers (which are caused by h. pylori). It's also used for other problems caused by increased digestive acids.
Matula tea is such an effective healing remedy that many doctors recommend it to patients who suffer from bacterial and acid-related digestive ailments.
The natural herbs in Matula tea have antibacterial properties, which helps to kill harmful bacteria like h. pylori which cause ulcers to form in the stomach.
This tea also facilitates healing within the stomach's lining, helping to soothe and repair the damage done by gastric acids in the digestive system.
Drinking Matula tea regularly can also help you repair lost mucus in your stomach, making the digestive process easier and less painful.
Some, who drink Matula daily, even report that you can feel relief from the symptoms of acid reflux and yeast infections within just a few weeks of incorporating Matula into your daily routine.
So, Matula tea can help you heal many internal woes. Of course, you should always consult your doctor if you're suffering from stomach problems and seeking relief. Let's repeat that once more, in huge red letters, to emphasize how important it is.
Always consult your doctor if you're suffering from stomach problems.
However, Matula is safe to drink on a regular basis; free from artificial ingredients as well as wheat, caffeine, dairy, corn, sugar, and gluten. It's a tea that nearly everyone can enjoy. With no known side effects, Matula tea is the blend to sip when your stomach just isn't feeling its best.