Try Dragonwell Green Tea by David's for a majestic cup of tea.
Here is a quick review about one of our favorite tea's here at Tea Perspective, Dragonwell Tea. This meticulously hand crafted tea is part legend and part a piece of history. This being said, the bar is set quite high. Lets dive in to this DAVIDsTEA Dragonwell review now…
Update: This is one of our very first posts here at Tea Perspective, and while we don't do a lot of this style of tea reviews anymore, we figured it was worth keeping it up none the less, hopefully you find it useful!
If you somehow managed to find your way here, leave a comment and let us know what you think.
See more: The Very Best Earl Grey Tea In The World
Dragonwell Green Tea Thoughts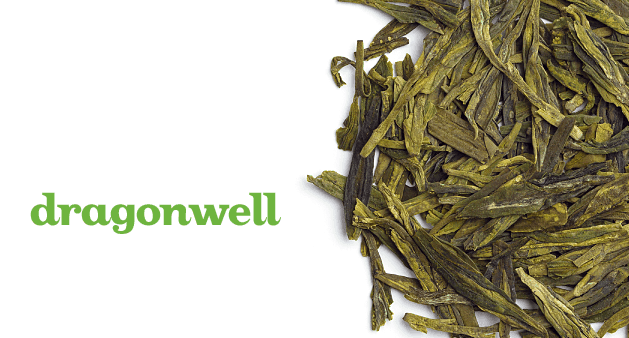 First Impressions: First thing you notice with this tea is the leaves, the long flat crisp leaves that have been pressed by a hot wok until absolutely perfect. It shows, even while steeping these leaves grew into beautiful and consistently large leaves. So far this tea has lived up to its name.
Aroma: Less potent than other green teas, its a lighter, sweeter aroma is far less intrusive than a Japanese tea for example.
Flavors: If the sight and smell of this tea hasn't convinced you yet the taste most definitely will. Mild aromas that transform into a complex grassy yet sweet nectar. As refreshing as a glass of water and as complex and subtle as your favorite wine or coffee, simply subdued. Making you dig around with your palate for a rewarding and invigorating flavor profile.
Additional Information about Dragonwell
Preparation: To prepare as directed, use 1 tsp of Dragonwell in 250ml of 82 degrees Celsius water for 3-4 minutes.
Ingredients: Premium green tea leaves from the West Lake Region, Hangzhou are, Zhejiang province, China.
Caffeine Content: Coming in at 2 out of 5 its right in the middle like most green tea's.
Where To Get It: Check it out at your local David's Tea or online at davidstea.com.
Closing Thoughts
This is the part where I would go into a few things that disappointed me about the tea, finding a small criticism to offset the rave review I'm giving it. Not this time though, this tea would be perfect for any occasion and at any time. Legends are made when teas like this one are steeped.