Admittedly, I've never been to Thailand but it sure feels like I have when I take some time out of a busy day to brew this thai iced tea recipe that is based off of several that I've found online, and slightly tweaked with the blessing of a friend that has spent a lot of time in Thailand.
Apparently, Muay Thai fighters will sometimes drink Cha Yen (ชาเย็น, or Thai iced tea as we call it) after a long day of training to help with recovery. I'm not sure it really helps with much besides hydration, but I won't argue that it's certain relaxing after a long day, mind you my 'long days' typically don't consist of hand-to-hand combat.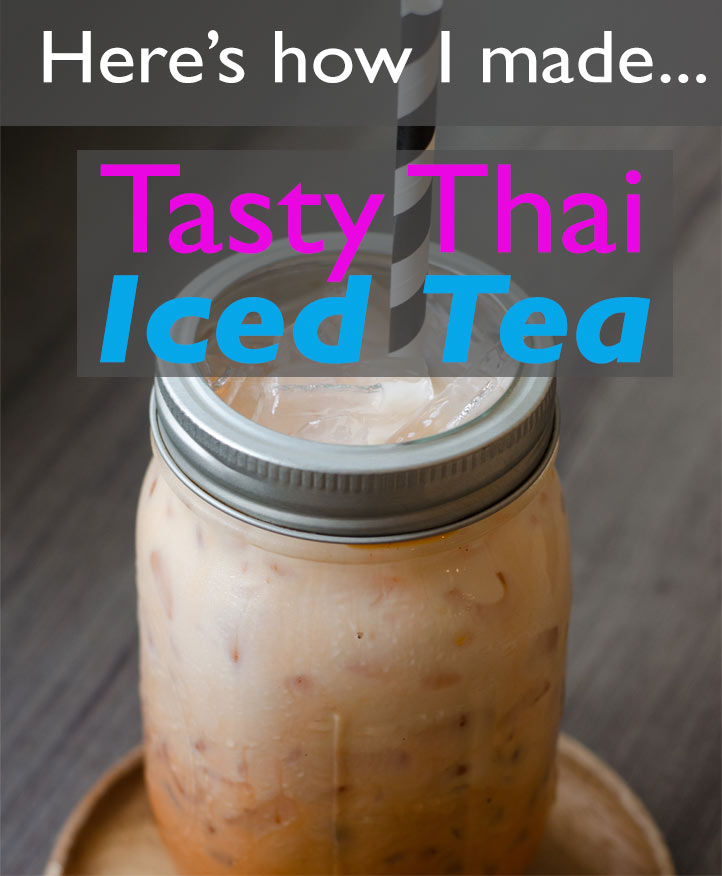 How is Thai iced tea different from "normal" iced tea?
The typical type of iced tea that we're all used to – available both sweetened or unsweetened – has a relatively mild flavor. It's made by steeping tea in water (Or mixing drink crystals, but that doesn't even really count…), with a variety of methods and recipes, but at the end of the day it's never going to have a rich, full-bodies flavor. You can make traditional iced tea more concentrated, but it's still always going to be tea.
Now, Thai iced tea, on the other hand (and this recipe in particular) have a much deeper, richer flavor. It's more of a treat than typical iced tea, in my humble opinion. It's creamy, sweet, rich, and absolutely delicious.
Creamy, sweet Thai iced tea recipe
It's really not that hard to make a perfect sweetened Iced tea – thai style! Here's a combination of a couple different recipes, I have made this plenty of times and I think this is the perfect blend. Disagree? First, visit your taste-bud doctor because you need a check up 😉 Still think you've found a better way to make this drink? Then leave a comment and share your variation with us!
Here's what you'll need:
5 cups of water
Condensed milk
2 tablespoons of loose leaf tea, or roughly 8 tea bags. (Black tea or red Thai tea are both great options.)
2 star anise
2 whole cloves
2 tablespoons of sugar
Ice cubes
… and here's how to put it all together: 
Boil the water in a saucepan.
Remove saucepan from stovetop, add tea, star anise, and cloves.
Steep for 5 minutes and then remove spices and tea leaves from water.
Add your sugar to the tea.
Allow the tea to cool to room temperate.
Fill up a tall glass with a few ice cubes, fill about 75% of the glass with your tea mixture, and then fill the rest of the glass with the condensed milk.
Vegan Thai Iced Tea Recipe
Here's a modification for all the vegans out there who were like "Aw, I won't be able to enjoy Thai-style iced tea :(" Nope, think again, because we've got you covered, thanks to Dana from MinimalistBaker. Here's Dana's recipe for vegan Thai iced tea, and make sure you check out the link to her blog to see her incredible photos of the entire process .
Here's what you'll need:
4 cups (960 ml) filtered water
2 Tbsps of loose leaf black tea (Or whichever tea you prefer)
1/4 cup (60 ml) maple syrup or agave nectar (Or sweetener of choice)
1/4 cup (55 g) packed light muscovado sugar, organic brown sugar, or coconut sugar
1 tsp pure vanilla extract
1 14-ounce (414 ml) can light coconut milk (or substitute for vanilla almond milk, rice milk, or any kind of milk you'd like!)
… and here's how to put it all together: 
1. Bring the water to a boil, then remove from heat.
2. Add tea, stir, steep for 3-5 minutes.
3. Remove tea from water, add sweetening syrup, sugar, and vanilla.
4. Whisk.
5. Chill.
6. Fill serving glasses with ice, then fill 3/4 of the way with your chilled tea mixture.
7. Add coconut or whichever milk you'd like to fill the rest of the cup.
8. Enjoy!
As you can see, the first version and the vegan version of this recipe differ. You could make either of them with animal milk or with milk-alternatives, it's just a matter of preference so experiment and see what you come up with!