IMPORTANT UPDATE: Taylor Swift can be seen drinking tea in her new video for "Look What You Made Me Do", which is good – because it gives us a reason to update this gallery!
Who doesn't love Taylor Swift, I know I do. She's cute, sassy, totally dominates the music world and she's super sweet to boot!
Have you heard that she invited fans to her house to listen to her play the new "1989" album before it even came out???
Letting them play with her cats and providing home made cookies and tea no less. I think we would all like to be her friend and if you don't you're lying to yourself.
1. First Off We Have Taylor Sitting Down To a Tea Party With Rosie and Sophia on Ellen.
Ellen has a lot of celebrities sit down with these adorable little british girls but I'll bet they enjoyed their time with Taylor the most. No better way to feel like a princess.
2. Taylor and Her Good Pal Ed Sheeran.
Ed Sheeran joined Taylor on her "Red" tour in 2013 as the opening act and they've remained good friends ever since.
Taylor and Ed have also written songs together and both performed on the Victoria's Secret fashion show last year. I bet they had tea on hand backstage.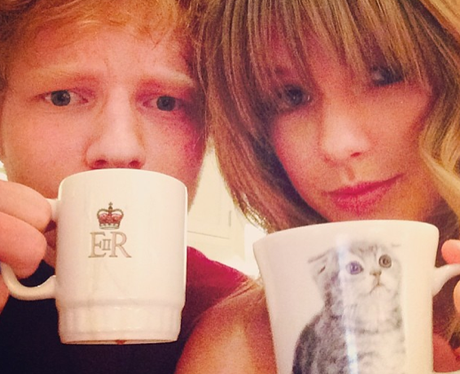 3. Enjoying a Cute Little Picnic in True Swifty Style.
This definitely looks like the perfect picnic. Bubbles, tea, flowers, the colour blue? Basically these are a few of my favourite things. (Cue Sound of Music song)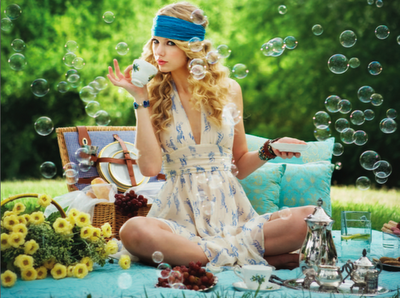 4. Taylor Face-Timing Demi Lovato With Selena Gomez.
Taylor seems so down to earth and fun which really shows in this pic. Just laughing and enjoying a cup of tea with one of her good friends Selena Gomez.
It's nice to see all of these young female pop stars getting along!!
5. Keeping Things Chill With a Cup of Tea While Reading an Issue of Vogue.
Yes, even Taylor still reads fashion magazines guys. Nothing beats turning a glossy page with a cup of tea in hand.
6. Look at How Intensely She's Staring Down That Cup, Must Be a Good Flavour.
7.  Yet Another Example of How Taylor Hangs With Her Gal Pals.
Once again we have Selena Gomez (no surprise there), who Taylor has often had as her date for multiple award shows. Joining them is the singer Ellie Goulding, and the sisters from the pop rock band Haim.
In true Swifty fashion they have a tray of tea right in front. No better way to pal around than with a hot cup of tea!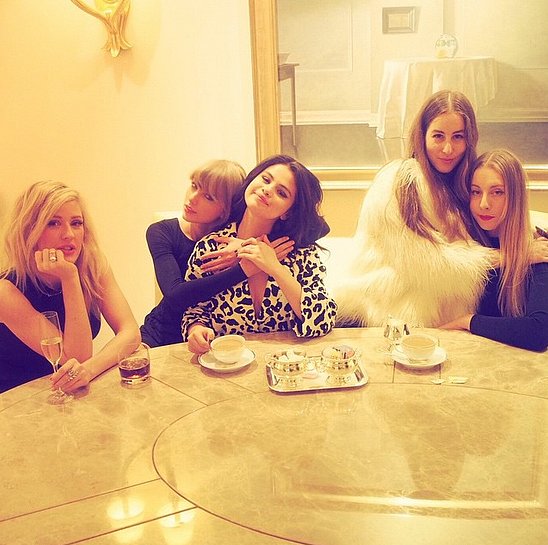 8. Basically Looks Like She Belongs on a Corner Street Caffe in France.
9. "Cold New York. Hot Tea."
Here we have a personal Instagram pic of Taylor's with model Martha Hunt that she captioned, "Cold New York. Hot tea." Seems like tea comes best in pairs for this girl.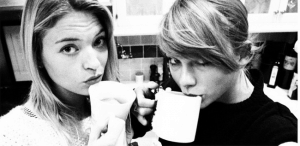 10. Umm Excuse Me I'm Drinking My Tea Here, no Interruptions Please!!
We love her style and I'm sure we'll never get sick of the fact that she thoroughly enjoys tea. Even if you don't like her music, revel in the fact that she's one of our tea drinking brethren. Stay classy you beautiful lady.
Have any other photos of Taylor Swift drinking tea? Leave a comment below with your faves!! Hopefully one day she'll host a tea party and invite the world, but until then…. you go Swift-Coco!!